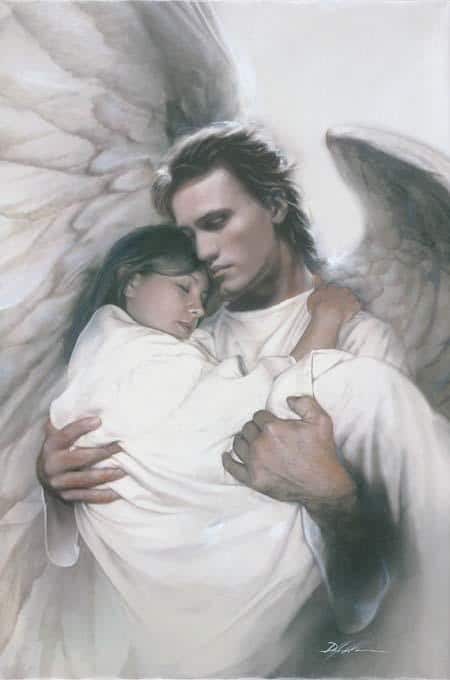 It is not very often that you meet a kind soul that touches your heart and changes your life.  I am blessed to have met one.
I believe that before we are born, the universe gives us a life plan: a particular purpose or destiny.  As a result, spirit guides or angels guide us to keep us from getting lost. The angels do everything in their power to ensure we complete our mission.  It's these angels that make sure we learn the lessons intended for us in this lifetime.
These lessons are what some call the "soul contract or soul-agreement." These agreements stay in place until we complete the lesson. But, sometimes it may take us a series of lifetimes to learn one specific lesson.
Most of the time we are unaware of the reasons why people come into our lives. Some come to stay. Others come for only a short while. They can manifest themselves as a friend, lover, neighbor or teacher.
Regardless of the duration, however, they come to give us a blessing or to teach us a lesson. My angel in disguise came into my life as both, a blessing and a lesson.
People come into our lives for a specific PURPOSE
I met my angel in 1991 when I was a first-year Political Science student at the University of Toronto.  At that time, I had no idea the impact and role this person was going to have in my life.  I was also not aware of the reasons why the universe brought him to me.
Our friendship was not immediate.  My angel was too shy to approach me, but we saw each other at every lecture. We were easy to spot as we were the two nerds that sat in the front row.
Our destinies finally touched, and we developed a friendship.  At the moment, of course, I was unaware of God's plan for a  friendship that would last a lifetime.
At 19 years of age, we had different aspirations.  My angel wanted to become a businessman, and I had my eyes set on becoming a criminal lawyer.  Our education paths led us to pursue our Master's degrees, him in business and I in Criminal Justice.
We were the odd couple. I grew up in a foreign country. I did not speak English very well. I had a Catholic background, and I did not have a penny to my name. He had culture, was smart, refined and from a wealthy Jewish family. I was the outsider.
Despite our differences, our relationship grew. Six years later, I became this angel's wife.
Now if you had told me that I was going to do the following, I would have dismissed every word:
Play a role in changing the world with him
Build several businesses together
Have two incredible children
Fall apart.
Get divorce
Go through times of anger and times of hate.
Rebuild our relationship
Create an unconventional family with his amazing new wife.
These experiences were, I guess, what my life plan had written on it.
When I look back now at all the important moments in my life, I see the purpose of this angel.  His mission was to guide and to keep me on my path.  I did not see it then, but I see it now.
"There is a role for every person we meet in life. Some are there to test us, to love us and some are there to teach us. There are some rare amazing ones who bring the best in us, the ones sent to remind us why it is all worth it"
The beacon to my divine destiny:
In 1994 I enrolled into my Master's studies. I can still remember many times crying and feeling that I couldn´t with the program. I found myself many times on the verge of quitting. He never let me. He would drop me off at school and tell me each time;
"You can do this, I believe in you."
I am proud to say that I graduated with Honours. I succeeded because this angel believed in me so much that I had no choice but to start believing in myself.
Next, to him, I could touch the sky.
If this angel had not been there to encourage me to stay on my path, I would have never graduated. If he had not been there, I would not have learned the incredible skills that I now I possess.
I have research ability, analytical thinking, and organizational skills. I learned time management, presentation skills, and conflict resolution. I did not know it then, but all these elements were one day going to help me co-found our company Embanet.  A company that changed the social fabric of society.
None of this would have been possible if this angel had let me quit.  My path today would have been different, and I would not be here telling you my story.
"To accomplish great things, we must not only act but also DREAM, We must not only plan but also BELIEVE"
We worked together to build a dream and a legacy. Embanet is helping working professionals improve their lives through continuing education. We built the dream from scratch. My Angel used to say,
"Inspiration or desperation is the mother of all inventions."
Embanet was no exception.
We created Embanet immediately after graduation in 1995.  We set a joint vision to touch the lives of over one million learners worldwide. I am proud to say that by 2006 Embanet had done that and more.
The dream we started from our bedroom computer grew to more than 350 employees who bought into our dream. Our baby went to touch the lives of over one million learners. Our vision and intention materialized. In 2007 we sold Embanet, and today it is one of the leading providers of distance education in the world
"I want to thank you from the bottom of my heart for making UCLA available to those of us who could otherwise have no access to further education. I live in the Texas Hill County and we are blessed with sweet air, wild bluebonnets, armadillos, horned toads, chaparral, rattlesnakes and Lone Star Bear, but the odds of learning about scriptwriting from someone who makes a living at it were nil. Thanks to you and this miraculous thing called Embanet I can learn from a man who has written and been successful at what I could have otherwise only aspired to do. If I become a successful screenwriter, I will not forget who paved the road. Here is to you, Embanet – God bless you and yours"
C. R. Jones
Again, had my angel not been there, I would not have reached my divine destiny and potential. We would not have been able to create a service that enabled people to improve their lives. A single working mother could now go back to school and upgrade herself to better provide for her family. We made all this possible!
My angel blessed me with the gift of becoming a mother. We brought to this world, two incredible daughters. We made them with profound love and hope.
When I think back of all the blessings he brought to my life, my girls rank number one. I could neither have asked for better children nor could I have ever found a better father.
This angel came to bless my life. He gave me a family that even after our divorce, has remained by my side even stronger than before. He helped me find a life of purpose and financial freedom.
Also, he brought with him his new wife who has become a soul-sister to me. She has as well brought to my life her amazing parents who love and accept me as one of their own.   I can't get any more blessed than this.
Some lessons are painful but some are PRICELESS
As I look inward and reflect on my life, I am grateful for all the things I took for granted.  One of the things I now appreciate the most was his loyalty.  There was a sense of peace in knowing he was always there for me, solid and firm in his commitment.
He taught me to believe in myself and that everything was possible as long as I was willing to pay the price.
He taught me how to trust and how to love.
He taught me the importance of family and to lead by example in all the things I do.
He taught me to never give up on my dreams.
He taught me to go the extra mile. To always do more, give more than expected to do.
He taught me to give back to those who were less fortunate.  He always says that only when we help others, can we help ourselves.
He taught me to look at the positive side of things and find the gift in my pain
He taught me to never become lazy about my successes.
He taught me that nobody is self-made. God plays a role in all our accomplishments.
He taught me to treat each person, client or friend as if it was my only one.
I learned never to get discouraged, even when everyone tells you "No." One late night he was still on the phone, cold-calling prospects in different time zones. I could see his list of names with lines crossed from all the rejections. I asked him,
"Why not call it a day and go home.  It has been a long, exhausting day.  You have gone through  a 100 names, don't you think it's time to go?"
"Just a few more," he responded.
"The more No's I get, the closer I am to a Yes."
His lesson in perseverance has taught me that when I hear a "NO" or things do not go as expected; not to get discouraged.  I know I am closer to finding my "YES."
He taught me that to do anything you need dedication and discipline. I learned that when you believe with your whole heart, it is difficult to fail.
He taught me to treat our staff with dignity and to share our success with them. As a result, they worked harder because they had a vested interest in seeing us succeed.
The lessons are endless. My angel is a mentor, a role model and in many ways the person I admire most. He always has an ear ready and a helping hand. I can always count on his unbiased advice.
Yes, it is true. People come into our lives for a reason. Some people come to stay and some just in passing. My ex-husband is an angel sent to me from heaven to guide and help me develop into a better human being. I am in many ways, the person that I am because of him.
In order to fulfill our destiny, we are assigned a set of spirit guides, angels, and people to help us along the way to get us there
So what that our marriage ended?
Again, things happen for a reason.  Maybe our marriage had to end because that was part of our soul contract. It was part of both our life plans.
Maybe we had to let me go so I could find my way. So I could go embark on a new journey, to conquer new horizons and perhaps to one day even find love again.
This angel is still present in my life, just as a shadow is present to remind us that we are never alone.
Every day I learn more and more from this angel. I see the kindness that he gives to all. The way he loves his wife and the drive he brings to each day.
Souls are often intertwined. They may meet again and again in different forms to complete their contract with each of us. My angel has stopped being my husband, but he remains my angel.
They say some people come into our life and we know right away that they were meant to be there.  I knew that about my angel. He served a purpose in teaching me lessons, and he has blessed my life by helping me figure out who I truly am.
I sense our contract with the other is not over.  There are lessons still my angel needs to teach me.  Our paths have deviated.  We have gone in different directions; we are both climbing different mountains.  I have to face different experiences and even endure some pain, but my destination is still the same.
I welcome the twist and turns my journey will take as I make my way through this wonderful thing call life. I take comfort in knowing that my purpose here in my current human form remains the same.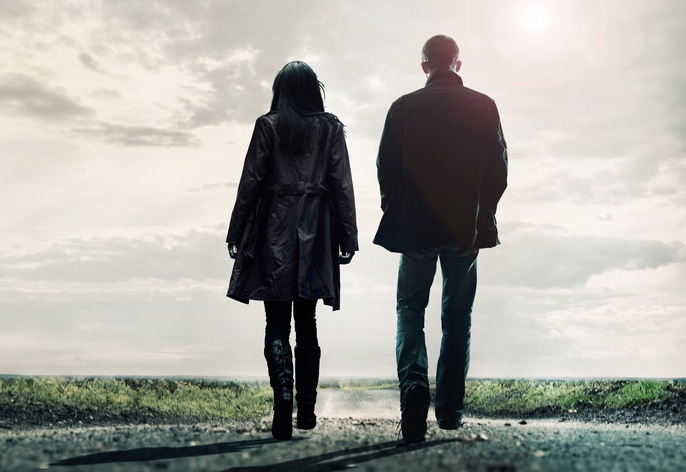 I now see the reasons why my angel came into my life, why our marriage ended and the soul contract he has with me.
My angel's contract with me was perhaps not to be my husband, but my teacher and my guide to help my soul grow and evolve.
He has taught me through valuable lessons to take control of my life. He encourages me to express my gifts and purpose to the world, and enjoy the life I was born to live!
Think about the people in your life. Who has profoundly affected your life?
You have angels guiding your steps so that you too can reach your destiny.
My wish for you is that you are lucky enough to see your angels as I have.
My hope for you is that you appreciate the gifts these angels bring into your life.
But most importantly, I wish you are fortunate enough to learn from those lessons. If you do, then you are blessed.
I dedicate this blog with gratitude to Jeffrey Feldberg. The man I once married, the father of my children, my business partner and my Angel in Disguise
Happy Birthday and Father's Day