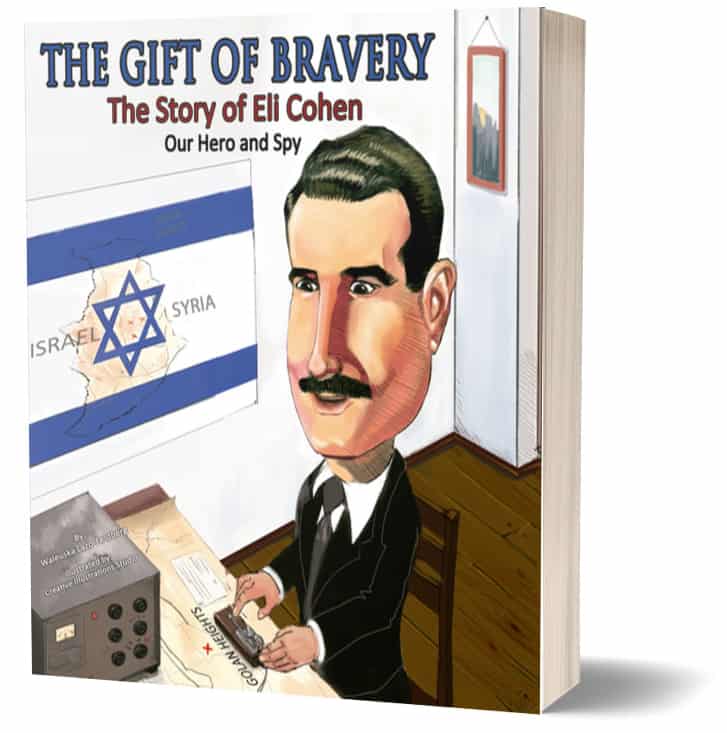 The Gift of Bravery is the story of how an ordinary man was transformed into an extraordinary spy and of the brilliant contributions he made to his nation that arose from his courageous acts in the face of danger. Get to know Eli Cohen—the best spy Israel has ever known—in the first illustrated book about his life. A heroic secret agent who rose to prominence in the Syrian government using a disguised identity, Eli risked his life to save his nation. Thanks in part to the contributions of Eli, Israel won the Six-Day War in 1967.
Growing up in Egypt in the 1920s and 1930s, young Eli was bullied and discriminated against for being Jewish. He dreamed of helping build a state where he and his family and friends could thrive and prosper, safe from the historical hatred and persecution of Jewish people. During World War Two, Eli worked covertly inside Egypt to weaken the enemies of his people by destroying hostile military outposts. Under a cloud of suspicion, he moved to Israel, where he married, started a family, and took a civilian job. But the days of Eli's sweet, peaceful life at home in Tel Aviv would be short-lived. With a growing threat from Syria on the northeastern border, the Mossad recruited Eli to spy for them (1961—1965) because of his bravery and flawless Arabic accent.
Canadian Jewish News – September, 2019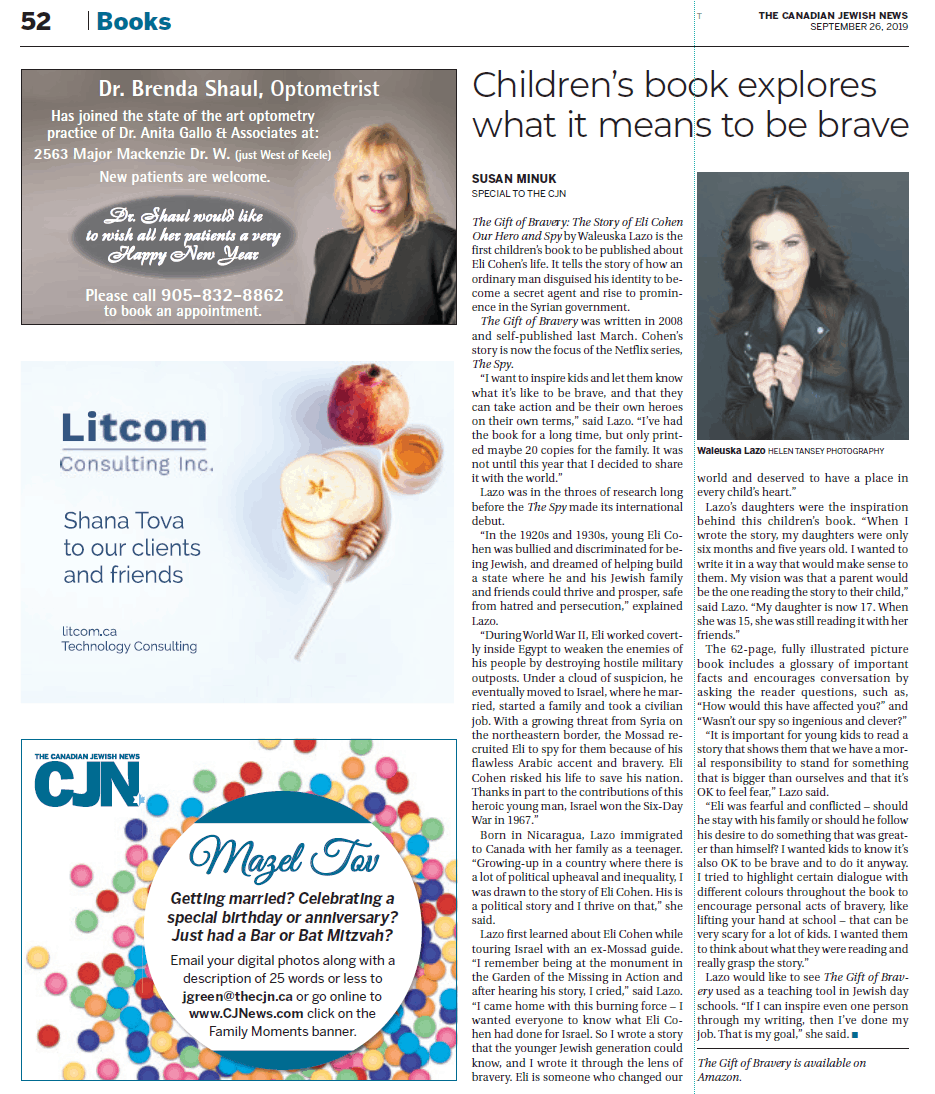 To order book click here: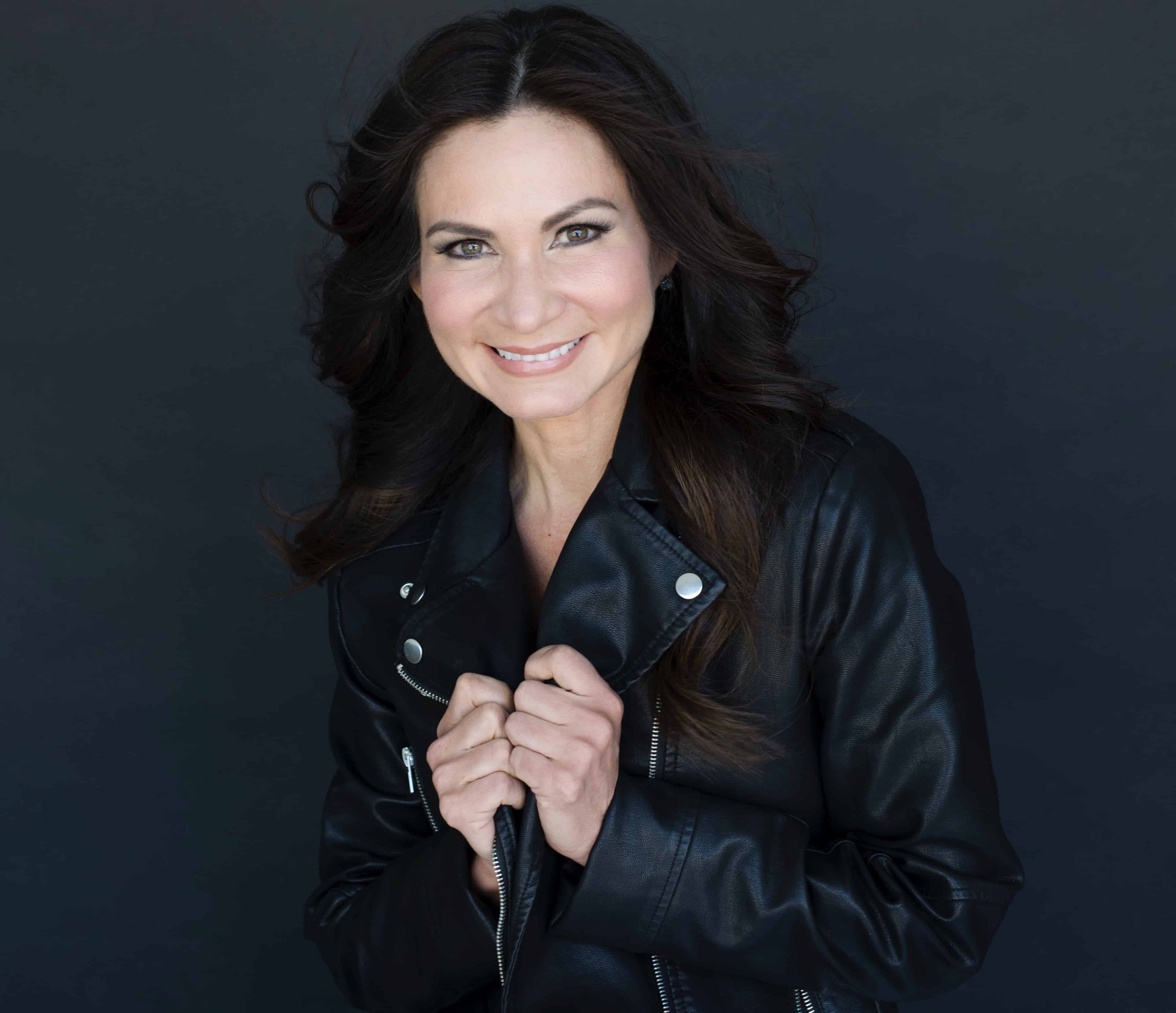 "Thank you for purchasing The Gift of Bravery. This book was inspired by a trip to Israel in 2008 when I was first introduced to the story of Eli Cohen and his bravery as a Mossad spy.
I remember being at the monument in the Garden of the Missing in Action and after hearing his story I cried and I knew at that moment that I needed to write about him. Although I chose to make this book for children using the value of bravery to tell the story, it is a book for anyone who wants to be inspired. I thank you for your support and hope this story captivates your heart as it did mine."
With gratitude,